MISC. STUFF
Want your picture on the internet? Want to hear a certain song? Want to wear a pink tutu, eat pencil shavings, and swim around in a huge pool of hippo spit all at the same time? Well, if you answered yes to the whole tutu thing, get the hell out you freak! Otherwise, send them to me and I'll be sure to put them up.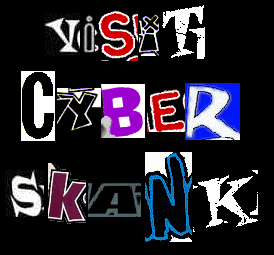 - here's a ransom-type ad I made for my page
HERE'S A PRETTY FUNNY MOVIE IN REAL VIDEO FORMAT CALLED "ROBIT" (It came in the CD I got MIE 4.0 on)
FOR TORY AND CHRISSY - here's a MIDI for "Mable" by Goldfinger. I also have it playing on this page.
FOR JIM -

Here's a picture of Jim in front of River Hill High School.
(More importantly, to the right of him is a GOTH!! Scary...)

FOR CARL - Here's your banner I made for you :
HERE ARE PICS OF SOME MEMBERS OF "THE GROUP," TO QUOTE BRIAN PETERSON (Click on them for full version):